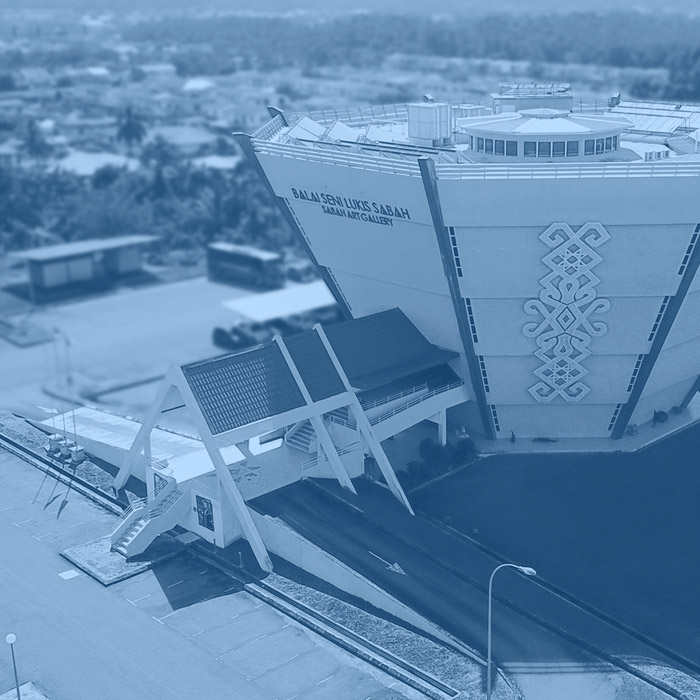 1960 - A dream to set up an art gallery has started to be discussed by the Sabah Art Society members which was led by Datuk Mohd Yaman Ahmad Mus.
1970 - Through the Sabah Board of Art, Datuk Mohd Yaman Mus suggested the establishment of an art gallery to TYT Tun Mohd. Fuad Stephens and Chief Minister Datuk Harris Salleh.
12.2.1982 - The President of Sabah Board of Art submitted a working paper to the state government requesting an establishment of state art gallery in Kota Kinabalu.
22.2.1982 - Y.A.B Chief Minister ordered the Ministry of Culture Youth and Sport to establish an art gallery under his department.
14.8.1982 - State Cabinet approved the establishment of Sabah Art Gallery based on the KKBS Cabinet Paper S2/17. 
3.1.1984 - The Sabah Art Gallery Department initiated an administrative affair in a room at Likas Sports Complex with Datuk Mohd Yaman Ahmad Mus as a Director and another three staff (Iana Ayuh, Alam Nuar and Noriman Alip).
30.1.1984 - In an early agreement with the curator of Sabah Museum, the Sabah Art Gallery Department located on the first floor of the Science Centre Building, Museum (covering an area of 14,400 square feet). The Sabah Art Gallery officially started with 8 staffs.
- The first director of Sabah Art Gallery, Datuk Mohd Yaman Ahmad Mus 
11.4.1984 - Sabah Art Gallery held their first exhibition in conjunction with the official opening of the Sabah Museum new building. A total of 163 artwork were exhibited.
6-12.1984 - 7 exhibitions were conducted in the first year of the Sabah Art Gallery establishment. Among the important exhibitions were the Retrospective Exhibition by Datuk Simon Yew, Solo Exhibition by Tina Rimmer and the "Empat Penjuru" Exhibition by a combination of artists Matthews Aziz, Simon Tim Lubis, Wasli Ibrahim dan Dzulkifli Ahmad.
8.2012 - Sabah Art Gallery Conservation Building completed.
8.11.2012 - The first day of the Sabah Art Gallery staffs in Conservation Building occupied.
January. 2013 - Sabah Art Gallery Conservation Building open to public.